Every once in a while something like the Bite2Lite flashlight comes along that is so stupidly simple (and handy!) that one wonders why someone else had not thought of it already.
What Is The Bite2Lite?
This little flashlight is incredibly useful in so many situations.  Once I had my sample Bite2Lite Flashlight (pre-release, but now available on Amazon, see: http://www.amazon.com/Bite2Lite-3-Pack-Squeezable-Flashlight-Lanyard/dp/B01AGXY9B6/ ) I put it around my neck when I went out to our lake cabin one evening  (it is a remote cabin with no power).
Easy To Forget
At first I forgot I even had it on because it is so lightweight, but soon enough I found myself in a situation where I needed a light (getting wood from the woodshed to get a fire going in the stove) and because I had forgotten that I had the Bite2Lite on me I went into the cabin to find a flashlight and what do you know?  I find three flashlights in the cabin and all of them don't work because the batteries are dead!
Bite2Lite To The Rescue!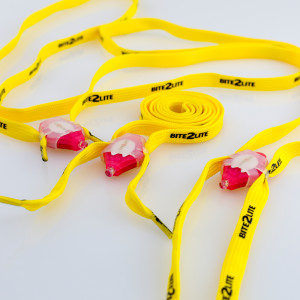 Then I remembered that I was wearing this stupid little light on a lanyard around my neck.
I pulled it out from beneath my shirt and turned it on.  It was already dark outside by this time so I just walked around with the light on and it provided plenty of light for me to see where I was going.
Once I got to the woodshed to retrieve the wood I found it incredibly useful to put the light in my mouth while loading up the firewood using two hands and then light my way back into the cabin to get the fire in the wood stove started.
Great For Fishing
After I got settled and had a late snack I decided to go fishing.  We have a nice lake with lots of fish in it and some of our best catches come after dark and the Bite2Lite came in especially handy while in the boat baiting my hook, changing lures, etc.
Bite2Lite For Hunting
I had a couple of Bite2Lites and I had found it so useful already I had to share one with my brother who took it hunting with him.  He said it was excellent for coming back from his deer hunting blind after dark (he always hunts until he can hardly see).
Bite2Lite For Snowmobiling
Just recently I was out snowmobiling with some friends after dark and one of the machines broke down.
Between the three of us we had forgotten to take a flashlight, but once again I remembered that I had put my Bite2Lite around my neck before leaving the house and with it's help we were able to quickly diagnose the problem with the sled and get it running again.  I don't know what we would have done without it.
For Homemakers, Hunters, Plumbers, and Electricians
I passed a few more around to friends and family and here are some of the things they said where they found the Bite2Lite came in handy for them.
"I put it in my sewing bag and when I sew I put it around my neck and use it to help me thread the needles and also to help me see in the far reaches of my sewing supplies closet"
"I used the Bite2Lite to help me clean a rabbit"
"I used it when working on my car"
"I used it when I was doing electrical work"
"I used the Bite2Lite when soldering a broken plumbing pipe in my basement"
"I used it when I went ice fishing and not only did it give me hands-free lighting on my way to the ice fishing shack – I hung it up inside the shack and it gave me all the light I needed"
"I accidentally left it on in my garden shed and when I went back in there 3 days later it was still on!"
Long Lasting Light
The makers of the Bite2Lite claim "At Least 24 Hours of Continuous Light", but from my experience (and the one noted above) I'd say you can get at least 72 hours of continuous light out of these silly little lights and Mad Progress is rating it one of the Best Small Keychain Flashlights available.
Conclusion
So if you are anybody who does just about anything I think you'll find the Bite2Lite will come in handy for you too.  Currently the only place that I have found them is: Bite2Lite on Amazon.com
Best Small Keychain Flashlights