A disabled bath tub chair is ideal for sitting in a comfortable manner in a tub or a shower.
These chairs support up to 400 pounds and most of them fit in all types of standard tubs. They are quite strong, made of durable plastic with adjustable legs, non-slip feet and large comfortable seats.  Many of them come with a support that you can attach to the bath tub's sidewalls.
They can also be utilized by special people like the elderly and disabled, as the bath tub chair makes their bathing easier and more comfortable.
These bathtub chairs and seats often have a battery control system too, which ensures complete stability of the chair.
Features You Want To Look For
A number of features are incorporated in the powered bath chairs and seats such as the visual alarms, and alarms signifying the battery life of the chair; also a sleep function to save the battery life of the product. It starts to blink after every ten minutes of non-use of the bath tub chair, and reactivates by just pressing the control pad.
The individual sitting on the bath tub chair can easily change the angle of the chair with the help of the control system provided. He or she can choose what position to sit in; whichever is more relaxing and comfortable and decrease the speed of the chair during the reclining of the backrest.
These chairs are light in weight and can be shifted from one tub to another. It also proves to be very easy to install, making the bath tub chair very practical. It is designed in such a way that it can be carried and transported, and removed easily from the bath tub for convenient storage.
Comfort and Support
The bather can have a backrest for comfort, which might be utilized with or without covers and is built in such a way that it cannot be used when there is insufficient charge in the battery, ensuring its reliability and performance.
These chairs are also designed for children who require extra support. It helps in raising the child and lowering without making any extra effort, using the control system and is portable, quiet easy to use and clean. The parents also do not need to worry, as many of these medical  bath chairs have a special leg strap and Velcro waist strap with an adjustable pommel.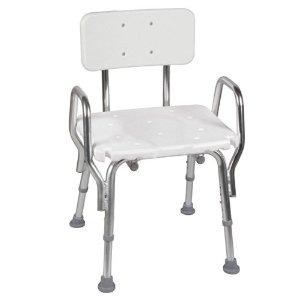 Regular Disabled or Handicapped Bath Chairs
Those who are not at the point of needing a powered bath chair or seat, but have trouble standing while bathing will find that a simple shower seat for elderly folks is an easy solution.
Whatever you need to help you with your bathing needs you can be sure that it available.  Just be sure to take your time when shopping, read other people's review of the product, and be sure to make your disabled bathtub chair from a reliable provider so if you find that the bathing accessory item is not what you want you can easily return it and get your money back.