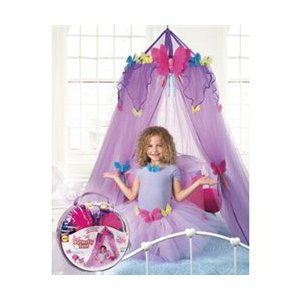 Every little girl loves pretty things and beautiful colors. Design a room created to give her both.
From pale pinks or purples on the wall to a butterfly bed canopy turning her bedroom into a fairy wonderland, every little princess will love an enchanted space of her own.
Together with your child, decide on what design you would like to go with for her room. There are many to choose from.
A flower garden with a white picket fence fastened to the wall is a cute room idea. It is versatile and allows for many creative and personal touches. An ocean theme is also an adorable choice if mermaid is more your daughter's style.
Most any little girls dream room includes the thought of waking up in a fairy wonderland with butterflies, flowers and glitter or sparkle everywhere they look.
Color themes are the easiest of all, simply paint and decorate the room in your daughter's favorite color and watch as her eyes and her smile light up her face.
Proper storage is a must have for any little girl's room. Help her to keep it clean and looking nice with built-in closet organization, toy boxes and plastic totes. Give her a place for everything, this will aid in teaching her proper skills in keeping her room picked up and organized, a skill that will serve them well as they get older.
Make the little things count.
You do not have to break the bank to create a darling girl's room. Accessories can go a long way in bringing a room's theme to life. Cute and colorful throw rugs, an over the door jewelry organizer, wall art, bedding, stencils and removable wall stickers can all add to the ambiance and give your little girl a pleasing environment.
Bed canopies are a lovely way to add detail to your daughter's room without spending a small fortune. They come in a variety of styles and materials, and can match just about any theme available for little girls.
Whether you go with an ocean theme complete with seashells and clouds on the ceiling or an enchanted garden with butterfly bed canopies designing a room with your daughter in mind can not only give her a special room of her very own but also give you quality time spent together as you plan out and execute every detail.