There are a variety of lap trays to choose from in stores and online, so the decision may be a little overwhelming. To narrow down your search, ask yourself some of the following questions:
How much can you afford to spend on a lap tray?
What are the main activities you will be using the tray for?
Do you prefer a wooden tray or another material that is easy to clean?
Once you have thought about these questions it will be easier to proceed with your search.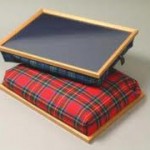 Most lap trays are not very expensive. You will probably find what you are looking for for under $25 unless you want an upscale tray or one that has a lot of features.
If the lap tray will be used by a child or mostly for serving food than you will most likely want a tray that is easy to clean. For children who like to sit and color, a lap tray with small compartments to hold their crayons or markers might be the perfect gift.
For someone who is recovering from an illness or injury and needs to spend a lot of time in bed, a lap tray with short legs may work well.
You can get a lap tray that has an adjustable top that lies flat for eating a meal and then tilts up to provide a surface for reading a book.  Some trays also come with a cup holder which is great for preventing spills while in bed or on a couch.
A new range of lap trays or lap desks are evolving especially for use with a laptop computer.
These lap trays provide a nice flat surface for that is more comfortable than your legs and also provides a barrier that will absorb the heat from the laptop.  You can find different styles of these trays to match your room decor.
Think about these decisions before you look for a lap tray and your search will be much easier.